The Most Iconic Jewelry Pieces from the World's Finest Luxury Brands
No matter what kindled your love for jewelry, one thing's for sure: these dazzling gems and glamorous strands are part of the world's story. 
Jewelry has a long history that can be traced back to ancient periods when the form of adornment was used to protect people from danger or symbolize status or rank. Fine jewelry as we know it, for its sartorial purposes, may be traced back to photos of the dame Elizabeth Taylor dripping with emeralds, to watching Breakfast at Tiffany's, or maybe to catching your first glimpse of the Bulgari Serpenti while you were window-shopping.

No matter what kindled your love for jewelry, one thing's for sure: these dazzling gems and glamorous strands are part of the world's story. And it just so happened that some pieces have made more of a lasting impact than others. Here are the most popular luxury jewelry brands and the hero pieces that redefined the jewelry of their time and will never be erased from books or memory.
Happy Diamonds Collection, Chopard
Founded by Louis-Ulysse Chopard in 1860, Chopard is one of the world's very few family-run jewelry and watch manufacturers. Due to its close affinity with cinema, it became the official jewelry partner of the Cannes Film Festival in the year 1998 with each succeeding year showcasing more and more fabulous pieces. As showstopping as those red carpet pieces were, nothing is as game-changing as the first-ever Happy Diamonds jewelry watch that launched in 1976. Chopard's in-house designer was inspired by dancing sunlight shining on a waterfall. He recreated that effect with diamonds floating inside a watch's case, and since then, the house has seen many versions of the feminine timepiece representing joie de vivre.
The Tiffany Setting, Tiffany & Co. 
For over a century, the entire universe has been enthralled by the Tiffany shade of blue—a turquoise color that connotes sophistication and the finer things in life. American jeweler Charles Lewis Tiffany pioneered the American fine jewelry industry when he had established his namesake brand in New York in 1887. After slowly introducing the market to jewelry by bringing in pieces from French aristocratic circles (and even French Crown Jewels), he finally cemented his reputation as the "King of Diamonds" with his iconic Tiffany Setting: a diamond on a six-pronged setting that redefined the engagement ring and became its cornerstone. Whether it's set in platinum or yellow gold, a plain band or encrusted with little diamonds, this is the world's most coveted engagement piece.
The Alhambra Collection, Van Cleef and Arpels
The marriage of Estelle Arpels and Alfred Van Cleef gave birth to one of the world's most relevant fine jewelry houses. Established in the year 1906 by Alfred and one of Estelle's brothers, the maison has since been conjuring up fine, tasteful pieces for adornment. Although it boasts many iconic pieces, perhaps the most emblematic of them all is The Alhambra collection that features the iconic four-leaf clover motif. Since its launch in 1968 as a yellow gold necklace, the collection has dreamed up more variants and even has watch versions, too. It remains a symbol of good luck.
Serpenti, Bvlgari
Italian luxury house Bulgari (most often stylized as Bvlgari) was established in 1884, but it wasn't until the 1940s that its Italian flair distinguished itself. It was also during this period that the brand's iconic Serpenti watch—both a stylish accessory and timepiece—was released. The sinuous strap of yellow gold was an innovative design, crafted using the Tubogas goldsmith technique. Forbes explains, "The bracelet is formed by long bands of gold or steel wrapped horizontally around a long, flexible steel tube. As they are coiled, the rounded contours of the bands interlock to conceal the inner structure. This is done without soldering." Now, the modern Serpenti collection even spans bracelets and eyewear.
Extremely Lady Watch, Piaget
Since its inception in 1874 by Georges-Édouard Piaget, the little family workshop for creating watch movements has grown into a luxury watchmaker, fine jeweler, and finally to one of the most prestigious brands in the world that represents both savoir-faire and Swiss craftsmanship. Piaget has had many successful launches, including the ultra-thin wristwatch that broke barriers; however, it is said that its golden era was between the 50s and 70s. After the brand made its foray into jewelry timepieces, it further pushed boundaries by rendering its iconic oval case with a stone dial. Perhaps such a description conjures a familiar moment? In the swinging sixties, Jackie Kennedy Onassis once sported this 'traditional oval' watch which featured a jade dial and yellow gold strap. This classic design has seen many iterations, such ones with dials made of lapis lazuli and rhodonite.
Panthère
, 

Cartier
Louis-François Cartier took over the jewelry workshop on 29 rue Montorgueil in Paris in the year 1847, but his jewelry brand established a name for itself when his three children eventually took over. Cartier was known as the brand for royalty (and later on, celebrities) with its decadent mix of necklaces, brooches, and wristwatches. The brand is often associated with its fiercely feline characters which had catapulted the brand into legendary territory since the first-ever Panthère watch was created in 1914. It was paved with diamonds and onyx gemstones, very much like the spotted cat itself. In 1933, self-confessed cat-lover Jeanne Toussaint was appointed as the director of high jewelry and created different iterations of the house's iconic feline.
Winston Cluster Necklace, Harry Winston
For decades, the house of Harry Winston has been adorning the necks and wrists of famous faces and lavishing the world with its timeless elegance. Since Harry Winston set up shop in its storied New York boutique in 1932, the fine jewelry brand has been abiding by his philosophy of letting the gemstones dictate design. Naturally, the outcomes are nothing short of spectacular. Amid the many legendary pieces that Harry Winston has produced, one icon is the Winston Cluster. Set in platinum and plastered with 195 marquise and pear-shaped diamonds, this necklace comprises "three-dimensional clusters of brilliance, full of movement and life." It weighs in on approximately 136.66 carats.
Miss Universe Crown, Mikimoto
Kokichi Mikimoto created the world's first cultured pearl in 1893. This eventually led him to put up his own pearl farm and the rest was history. He once told a Meiji Emperor, "I would like to adorn the necks of all women around the world with pearls." Perhaps the brand is often associated with Miss Universe, as it had been the official crown sponsor for most of the 2000s. The iconic Miss Universe crown is made with yellow and white gold, studded with diamonds and South Sea and Akoya pearls. It was inspired by the seven feathers of a Fenghuang phoenix. This crown was coveted by Miss Universe contestants for years, but only 12 women have had the honor of wearing it—including the Philippines' own Pia Wurtzbach and Catriona Gray.
Peacock Brooch, Graff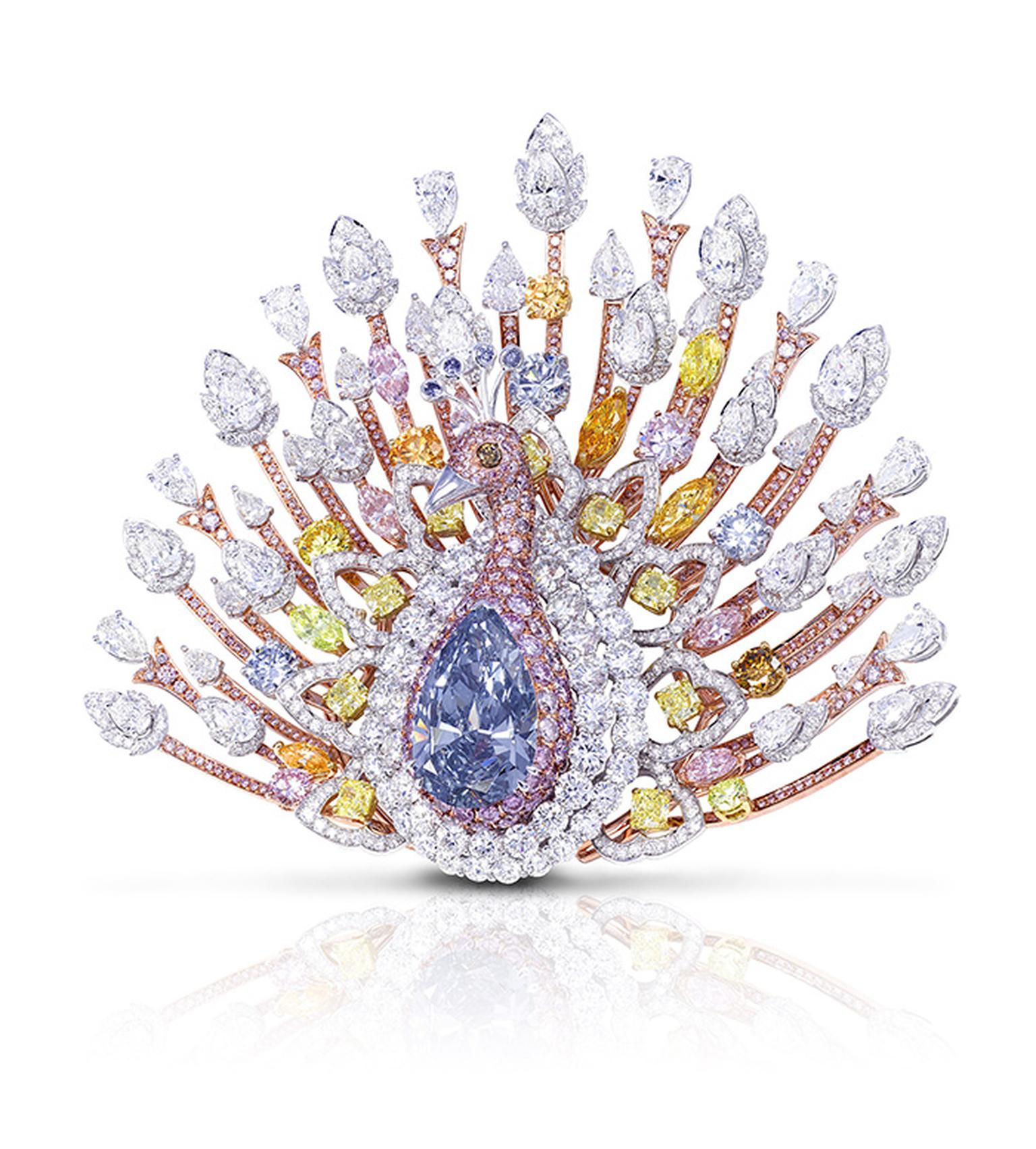 British fine jewelry brand and "custodian" of the world's most precious gems, Graff has been whipping up the most fabulous, extravagant frosted pieces of our time since it was established in 1960 by Laurence Graff. Aside from its legendary acquisitions such as the Graff Pink Diamond and the Wittelsbach-Graff Diamond, one of the house's most memorable pieces is the elaborately designed Peacock Brooch that was debuted in 2013 at the Maastricht's TEFAF fair. The dazzling beauty beholds a 20.02-carat Fancy Deep Blue diamond as the centerpiece, while colorful diamonds of white, pink, yellow, orange, and green radiate from it. It is valued at a cool $100 million. 
source https://www.esquiremag.ph/