Decode the symbolism concealed within the jewelry pieces you wear every day
February 08, 2021

Ally Cohen
Decode the symbolism concealed within the jewelry pieces you wear every day. Uncover the hidden meaning behind your jewellery
Uncover the hidden meaning behind your jewellery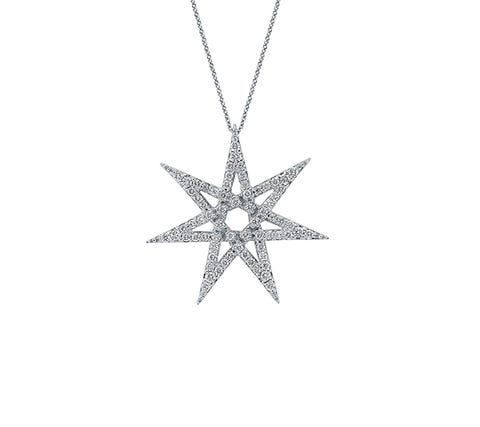 White gold and diamond necklace, Bee Goddess
The seven-pointed star expresses a union between heaven and earth, with four points representing the solidity and abundance of earth, and three embodying celestial inspiration and perfection. This necklace will bring radiance, renewal, happiness, protection, abundance and productivity.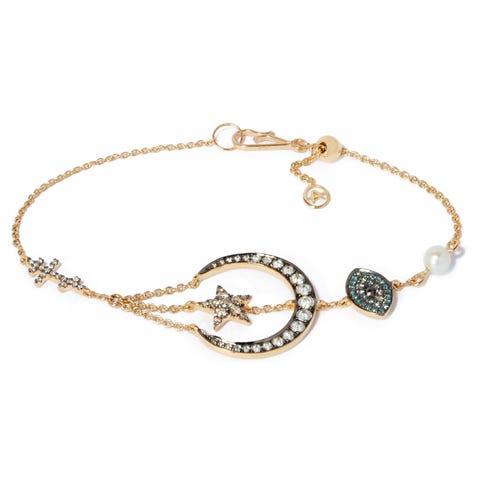 Yellow gold and diamond bracelet, Annoushka
The eye is a symbol of spirit and wisdom, while the crescent moon represents power, fertility and change. This bracelet enables you to keep all of your charms in one place.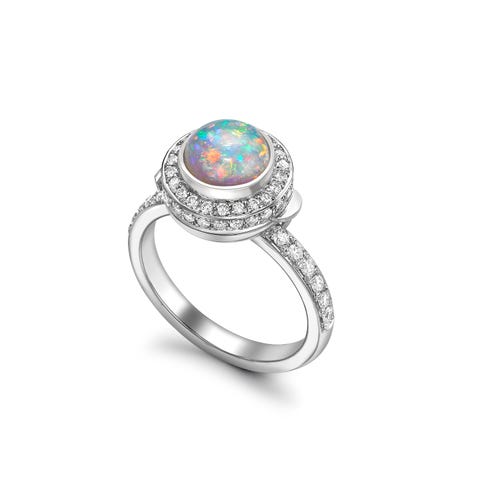 White gold, opal and diamond ring, Theo Fennell
Opal is an emotional stone, promoting both freedom and independence.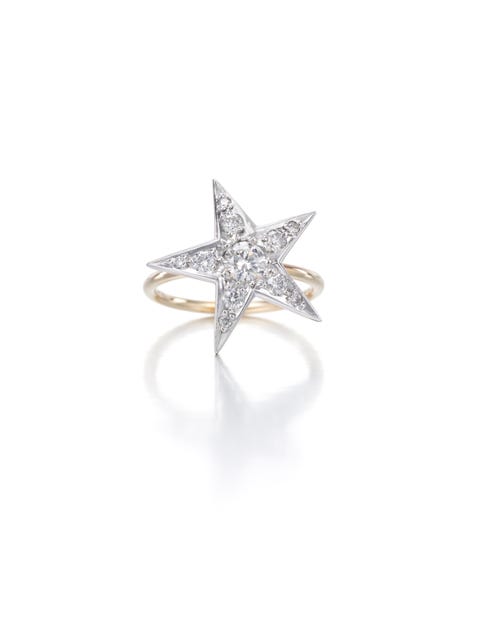 Yellow gold and diamond ring, Jessica McCormack
Stars symbolise constancy and eternity; this ring will bring light in times of darkness.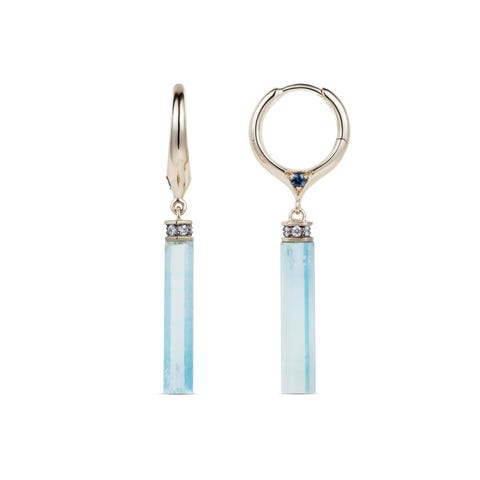 Aquamarine crystal earrings, Noor Fares
Aquamarine was believed to be the treasure of mermaids and was used by sailors as a talisman of good luck, fearlessness and protection. These earrings will calm, soothe and cleanse, inspiring truth, trust and the ability to let go.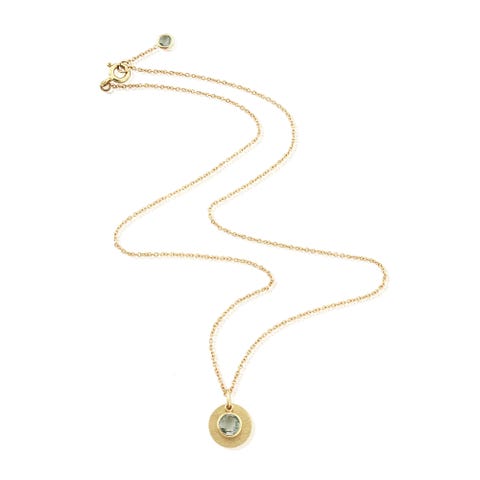 Blue topaz necklace, Auree
The symbol of love and affection, blue topaz is said to release tension and encourage relaxation. This necklace would bring wisdom to its wearer, as well as inspiring creativity.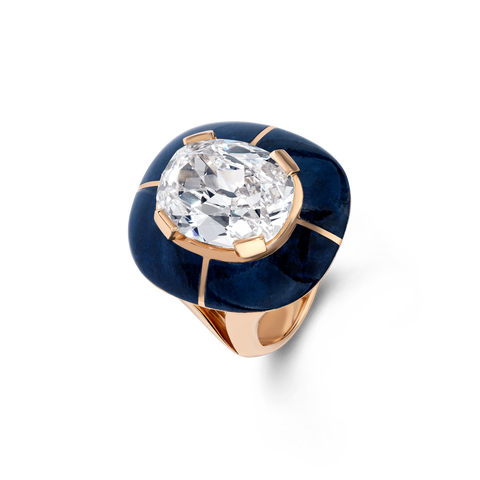 White diamond and Dumortierite ring, David Morris
Dumortierite is a stone that teaches you to stand up for yourself, helping you to take control of your own life and increase your level of patience.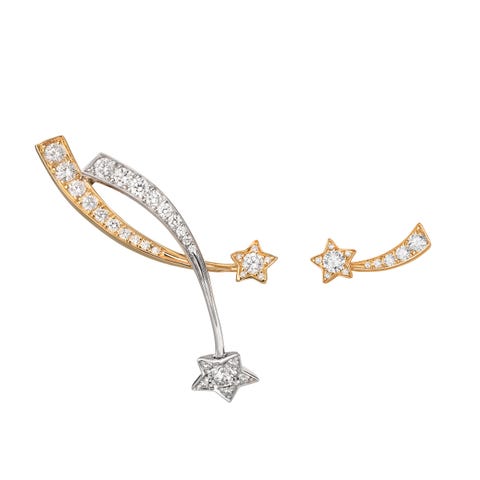 White gold, yellow gold and diamond shooting-star earrings, Chanel
Seeing a shooting star is believed to signify that you will achieve your destiny; expect good fortune, positivity and a little magic in your life.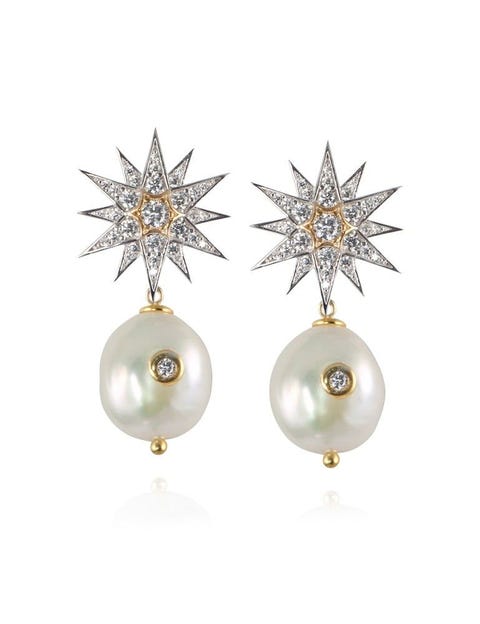 Cubic zirconia and baroque pearl earrings, Apples & Figs
Stars symbolise hope – a beacon of light in the darkness – while pearls offer wisdom and protection. These earrings will bring purity, generosity, integrity and loyalty.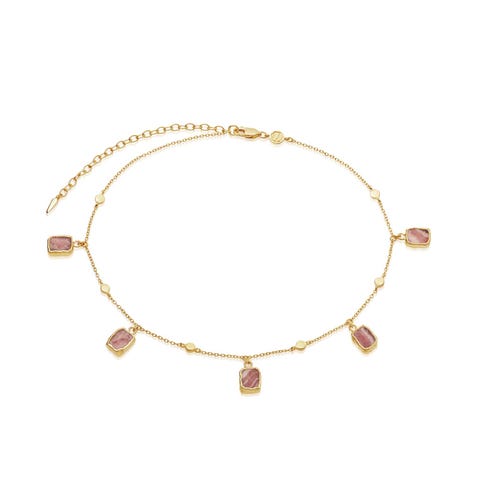 Rhodochrosite and gold charm bracelet, Missoma
Pink Rhodochrosite symbolises love, its deep pinky-red gemstone resonating with the heart to promote self-respect. This bracelet will help you love yourself as well as others.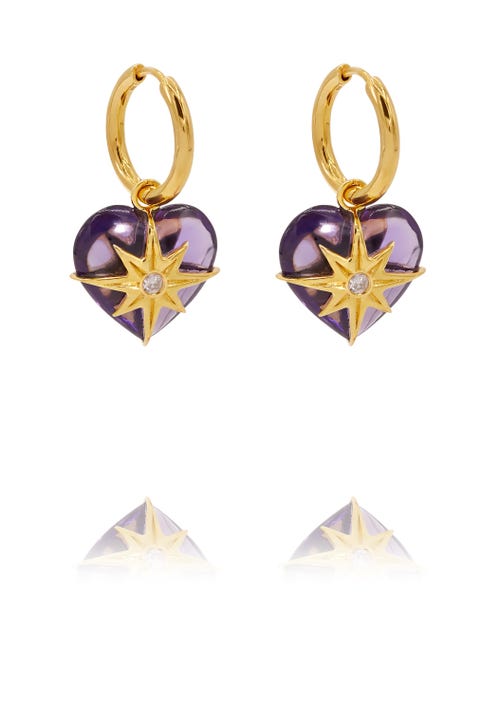 Amethyst star earrings, Theodora Warre
Amethyst is a stone of spiritual protection and purification, cleansing all negative influences. This precious stone should be worn to reduce stress, anxiety, fear and grief; it will help bring clarity in decision-making and guard against anxiety.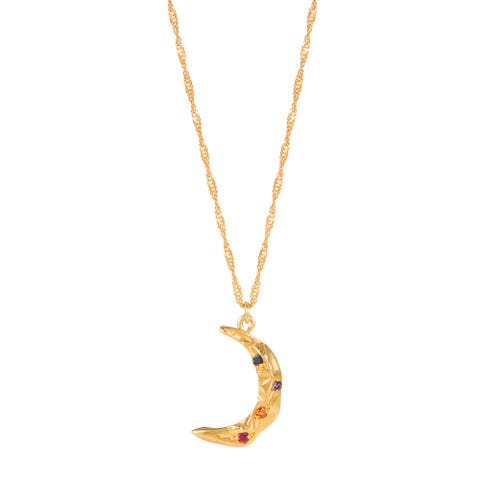 Gold and cubic zirconia gemstone necklace, Hermina Athens
Cubic zirconia resonates with the third-eye chakra, sharpening your instincts and deepening your sense of spirituality. The moon motif symbolises power, fertility and change.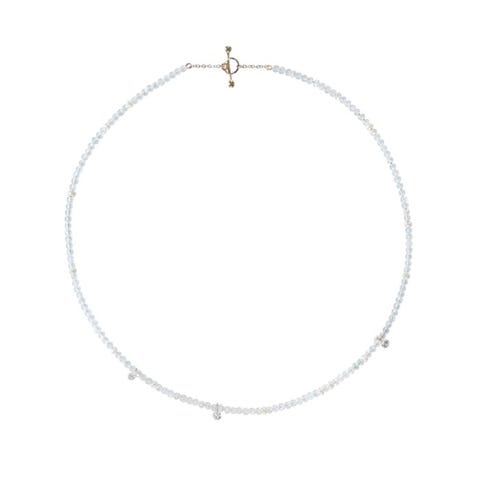 Moonstone choker, Cat Bird x Leith Clark
Moonstone is a natural crystal mineral that holds the energy of the moon, promoting the divine in all situations. A calming gemstone, it helps control the stress and clear the mind and senses.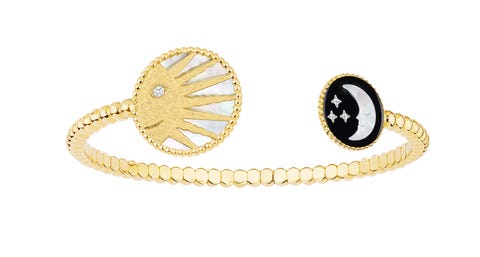 Diamond, mother of pearl and onyx bangle, Dior Joaillerie
Onyx is a powerful protection stone that absorbs and transforms negative energy, aiding the development of emotional and physical strength. Mother of pearl brings the gently healing power of the sea, relieving stress and calming the mind.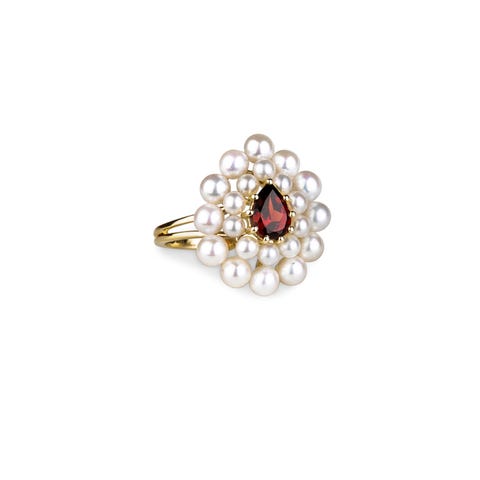 Gold, freshwater pearls and garnet ring, Anissa Kermiche,at Net-A-Porter and Liberty of London
Garnets are associated with protection, boosting strength and increasing willpower. They are also believed to have healing powers.
source https://www.townandcountrymag.com/
September 05, 2021
by Ally Cohen
Prime Wardrobe is a program for Amazon Prime members that lets you try clothes in the comfort of your home before you buy them. It is an 
 is a Prime-exclusive program where you can try eligible items from women's, men's, kids', and baby clothing, shoes, and accessories before you buy them. 
Continue reading